Snake Catcher.
Park Orchards.
Warrandyte Snake Removal.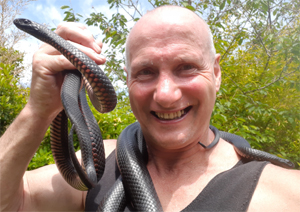 Raymond Hoser has been catching snakes since he was dropped as a baby!
He is now 60 years old!
He has been the Park Orchards snake catcher for decades.
He moved to the suburb in Melbourne, Victoria, Australia in 2001, but was catching snakes there for the previous 20 years before that!
In nearby Warrandyte, he has been known as the Snake catcher Warrandyte for just as long.
Same for Wonga Park, where Raymond Hoser has been the only local snake catcher.
That he is local makes a huge difference.
When a snake is found in a home in the area, locals in Park Orchards, Warrandyte and Wonga Park can call their local snake catcher for fastest snake removal.
Within minutes the snakeman can be on site and controlling the snake.
After capture, the snake is whisked away to the safety of a nearby national park, where both snake and people are safe from one another.
Raymond Hoser was at one time not just the only snake catcher in Warrandyte and Park Orchards, but the only one in Melbourne.
Back then he was busy keeping everyone in Melbourne safe.
Over recent decades, Melbourne has grown and so too have the number of government licensed snake handlers.
Most have been trained and educated by Snakeman Raymond Hoser, who besides being the local snake wrangler, is also the world's foremost leading reptile expert.
When not doing snake relocation work as a snake handler, he is busy doing Australia's best wildlife shows and kids reptile parties.
The Park Orchards snake catcher does snake removal and snake handler work operates 24/7 and can be contacted on 0412-777-211 day or night, any day of the year.
If he cannot get to your place to remove a snake, then he will put you onto the nearest properly trained snake catcher who can do the job for him.
In any event, you and your loved ones will be kept safe.
More Melbourne Real Bucket List Experiences!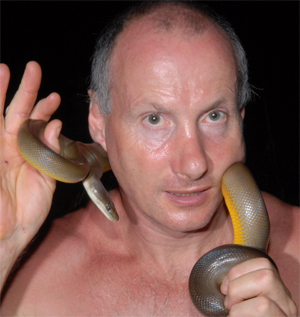 Copyright 2022. All rights reserved.