Melbourne's real bucket list activities.
Reptile Parties that are hands-on!
Ok, so you have heard about the kids reptile party that does the rounds of kinders, school incursions and the like.
You know the gig. A bloke in a Khaki shirt rocks up and pulls out a snake, a crocodile and a few other bits and pieces.
For each animal you get a nice little show and tell about them.
If you are lucky, you may even get to touch one.
In the kinder incursion you see the toddlers and biggies placed a circle so that no one misses their turn to be able to pat the animal.
Of course at the end of the show, you'll know lots of nice little facts about the animals, but a week later all is forgotten and you have probably learnt nothing!
In real terms this is not too exciting and tghe educational value is not much either!
Some years back, Snakeman Raymond Hoser changed the whole idea of reptile parties and they have never been the same since!
Firstly the emphasis is not about drumming facts into people's heads.
Fun and excitement are now the main game.
Of course this means that people need to hold the animals!
The hands on reptile party is now the most popular birthday party event on the Melbourne circuit.
Every weekend there are kids reptile parties, adult reptile party events and reptile shows at festivals and the like.
At every single venue, the highlight is people making sure that they get a chance to handle the animals!
Even the dangerous species make a grand entry at these party events because now there are vet certified devenomized snakes that take the risk out of the equation.
Because kids reptile parties and adult reptile shows are extremely popular, it makes sense to plan in advance and book several weeks before your preferred date. But remember, that if you make a last minute decision to have your reptile party, take a chance and contact reptile parties by phone as they may be able to squeeze in your date.
They really are a party with a lot of bite!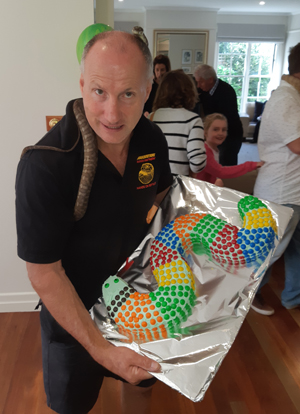 Copyright 2021. All rights reserved.